When you are buying a new of pre-owned vehicle you have lots of great choices and important decisions to make in order to choose the right vehicle and features that suit your lifestyle and budget.  When it comes to paying for your new vehicle, you also have choices and important decisions to make.
Carstairs Ford Financing
Our dealership has a Financial Services Manager whose primary function is to arrange your vehicle financing as soon as you make the decision to purchase your new vehicle.  They are a trained automotive lender, and work by acting as a vehicle loan "broker" within the dealership - like a mortgage broker.  They have the authority to draw up the vehicle loan agreements on behalf of the chartered banks, you never have to visit a bank branch!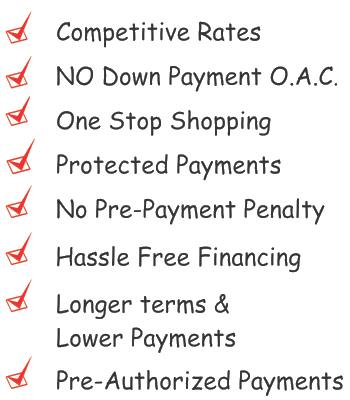 Competitve Rates - Because we do such a large volume of vehicle loan business and deal with so many financial institutions we can offer our customers the best rates
No Down Payment O.A.C. - You can put as little or as much down payment as you choose toward your vehilce loan.  You can even choose to put $0 down and finance 100% of the vehicle and taxes.
One Stop Shopping - Purchasing and financing your vehicle at Carstairs Ford makes the process very convenient.
Protected Payments - Most people that have a home mortgage have it protected with life and/or illness and injury insurance.  We offer this very same coverage for your vehicle loan - often your second largest asset.  Carstairs Ford feels so strongly about our customers protecting their vehicle loans that we offer a preferred interest rate to those of our customers that include creditor insurance in their agreement.
No Pre-Payment Penalty - Dealer Plan vehicle loans can be paid off at any time without interest penalties.
Hassle Free Financing - With our speedy approval process, once an application is copmleted we most often secure an approval within minutes!
Longer Terms & Lower Payments - In many cases we can arrange for longer terms than you might normally be able to get which can lower your payments or allow you to purchase an upgraded vehicle.
Pre-Authorized Payments - Our financing solutions come with the convenience of pre-authorized payments from your bank account of choice.
Leasing vs. Financing
The decision to lease or finance a new vehicle depends on many factors.  We can assist you with your choice but the chart below outlines some of the main considerations:
| | | |
| --- | --- | --- |
| LEASING VS. FINANCING | LEASING | FINANCING |
| Ownership | You pay to use the vehicle during the term of the lease and must return it at lease-end unless you choose to purchase the vehicle. | You own the vehicle free and clear after your financial obligations are met. It will be yours to keep or trade-in on your next vehicle. |
| Payment | Monthly lease payments may be lower than comparable term monthly finance payments because you are paying for the portion of the vehicle's value used during the lease term. | Monthly loan payments may be higher than comparable term monthly lease payments because you pay for the entire purchase price of the vehicle. Each payment helps build vehicle equity toward future trade-in. A bi-weekly payment schedule is also available if you prefer a lower payment every two weeks. |
| Customization | Customize your vehicle through your Dealer at the beginning of your lease with approved accessories. | Customize your vehicle at any time. |
| Kilometres | You have a variety of kilometre / year options to choose from at the beginning of your lease to meet your driving needs. You are responsible for any excess kilometre charges unless you choose to purchase the vehicle. | You may drive as many kilometres as you want. However, higher kilometres will lower the vehicle's trade-in or resale value. |
| Wear and Tear | A normal amount of wear and tear is covered. You are responsible for wear and tear in excess of normal limits unless you choose to purchase the vehicle. | There are no charges for vehicle wear and tear. Excessive wear will lower the vehicle's trade-in or resale value. |
| End Of Term | At the end of the lease, you have the flexibility to either purchase your leased vehicle at a predetermined price or return it. | At the end of the loan, you own the vehicle. It is yours to keep or trade-in on your next vehicle. |